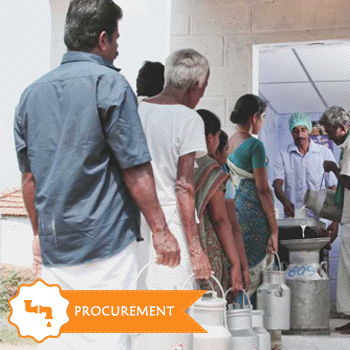 Procurement
Our dairy's procurement system is farmer-centric.
Fresh milk is procured from farmers in different villages.
Village Level Collection Centers (VLCC) are set up to collect milk from them.
Computerised milk scanners are used to check the Fat and SNF levels of the milk.
After the quality check, the milk is transported to the Bulk Milk Coolers (BMCs).
Milk is cooled at 4°C in the BMCs. BMCs are facilitated to test the incoming milk for bacteriological qualities.
Chilled milk from here is taken in insulated milk tankers to the factory.